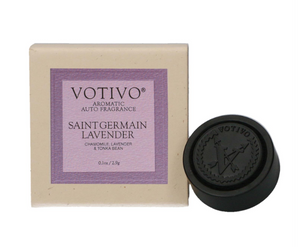 Votivo
Auto Fragrance, Saint Germain Lavender
Regular price
$10.00
$0.00
Unit price
per
Fragrance:

 
Saint Germain Lavender
Fragrance Description:

 
The one that's calm, cool and collected. Soothing, herbaceous and essential to your self-care routine.
Use & Care:
Snip Snip:

 
Clip it up. Carefully remove your new Aromatic Auto Fragrance from its packaging and connect the clip to the back of the cartrid
Light it up:

 
Dial it in. Before attaching it to your vent, turn the dial at the top of the cartridge to adjust the fragrance intensity.
Cool + Rest:

 
Cruise & enjoy. Connect your Aromatic Auto Fragrance to the desired air vent in your vehicle by sliding the clip onto one of the
---